Laguna Beach Show and Reception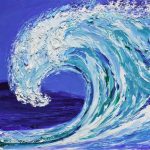 June 8, 2019
6:30-9pm
Cara Moran Showcases Paintings in "Overflowing" at The Signature Gallery in Laguna Beach.
In a bold and beautiful new show, artist Cara Moran will exhibit her series of colorful and lively water scenes – waves and beaches as well as her 'overflowing' flowers and gardens. Her exceptional paintings are a mesmerizing vision of color and swirling texture that impart movement depicting natural beauty creating a captivating story.
Artist Reception: Saturday, June 8, at The Signature Gallery, 220 Forest Ave, Laguna Beach. Refreshments and live music.
Call The Signature Gallery Laguna for details – 949-376-4244.
www.thesignaturegallery.com